Critics of the unreleased Apple Watch, many and legion, seem quick to call it big and clunky. I had a little time on my hands, and decided to so some investigative research.
Apple has released some sizing information and various Apple Watch sizing templates are available online. I downloaded one from Ryan P. Mack. Next I went hunting for my digital caliper (a device for making precise measurements) and failed to find it—must be in my toolchest at the Hack Factory. No worries, the analog caliper in my rigging bag sufficed. Finally, I pulled the (average sized) Bertucci field watch, my EDC (every day carry) timepiece, from my wrist. The Bertucci isn't the smallest, thinnest watch I've owned, but it isn't the bulkiest either. (Obviously) I find it to be an acceptable size for everyday wear.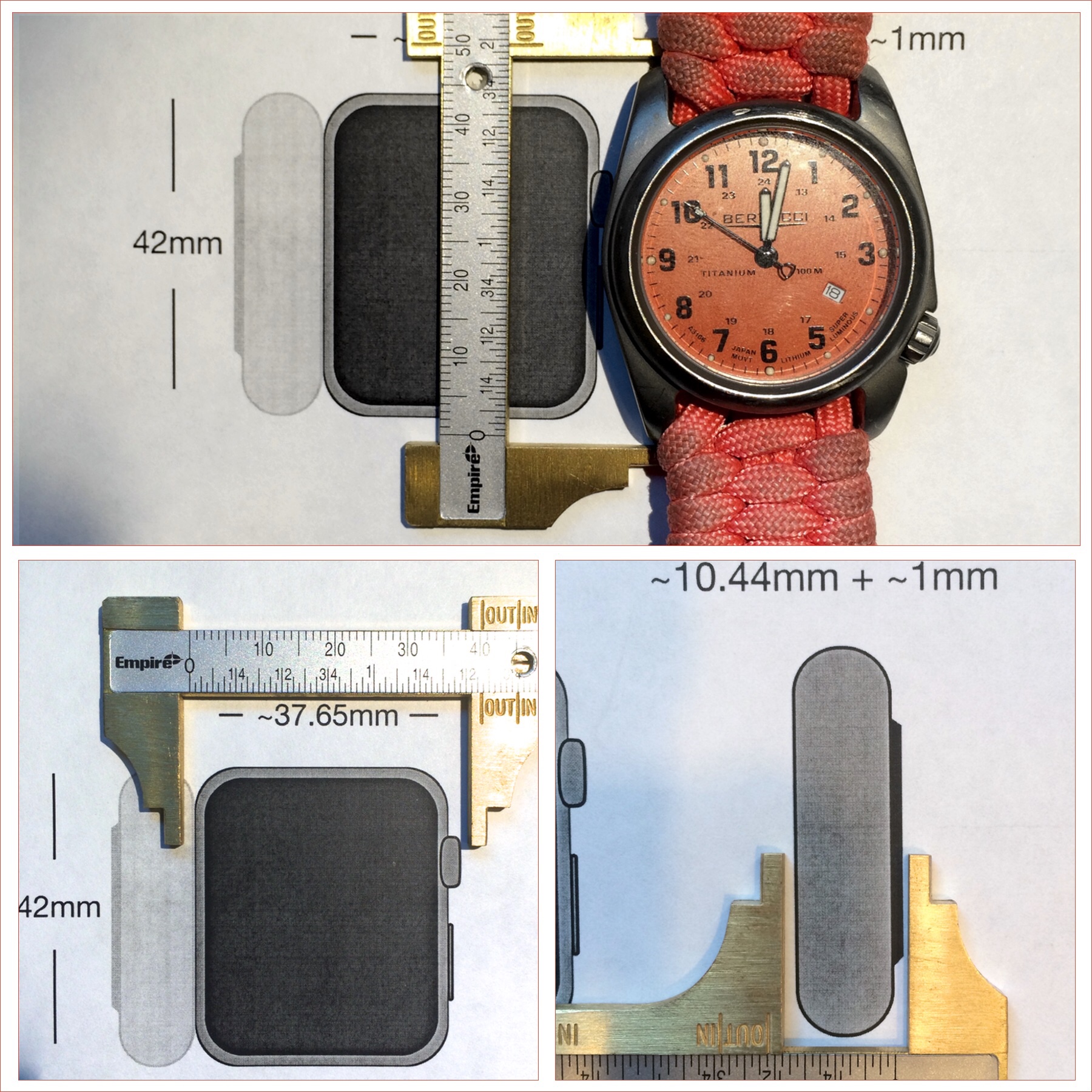 The larger Apple Watch case is 42mm tall. Using press images and videos, Ryan estimates that the width of the watch is 37.65mm and the thickness is 10.44mm + a 1mm "bump" for the heartrate sensor. My current watch case is 48mm tall, 39mm wide and 11-12mm thick in round, analog numbers.
Criticizing the styling of the Apple Watch is valid, that's after all a matter of taste, but calling it "big" or "clunky" seems inaccurate. For all practical purposes, I'm wearing an Apple Watch sized timepiece today and (most) everyday.
I'm planning on ordering a 42mm model in Black Stainless Steel, watch band TBD—ultimately I'll be tying my own. What's your choice? Let us know in the comments.